1. In the video below I show you what supplements to get to maximize your body's natural defense system. By doing this you will make sure that your system will not "crash" if you do get it. There are specific ingredients proven to minimize the spread of any viruses in the body, kills viruses, and enhances your immune system to the max.
2. Opt out of the fear. The mass media sells fear (to keep you watching). In fear, your immune system is suppressed. So be aware without being in fear. How? Know that your system, if you make it and keep it healthy, is way more powerful than you currently realize.
3. Use the momentum to benefit yourself lifelong. Take this opportunity to really take care of YOU! Then keep these self care practices in place.
Watch the video below
Avoid using Amazon to buy supplements. There are a lot of fake ones on there. Here is an article about the situation.
USE THIS LINK TO ACCESS THE MEDICAL PORTAL AND ORDER YOUR SUPPLEMENTS 
One of the benefits of working with various advanced labs and specialized companies, we have access to products from companies that only sell to doctors.
Below is a report I was just given on March 19th about a product proven to reduce the symptoms of corona virus pneumonia by 90%.
See the pictures of the document below: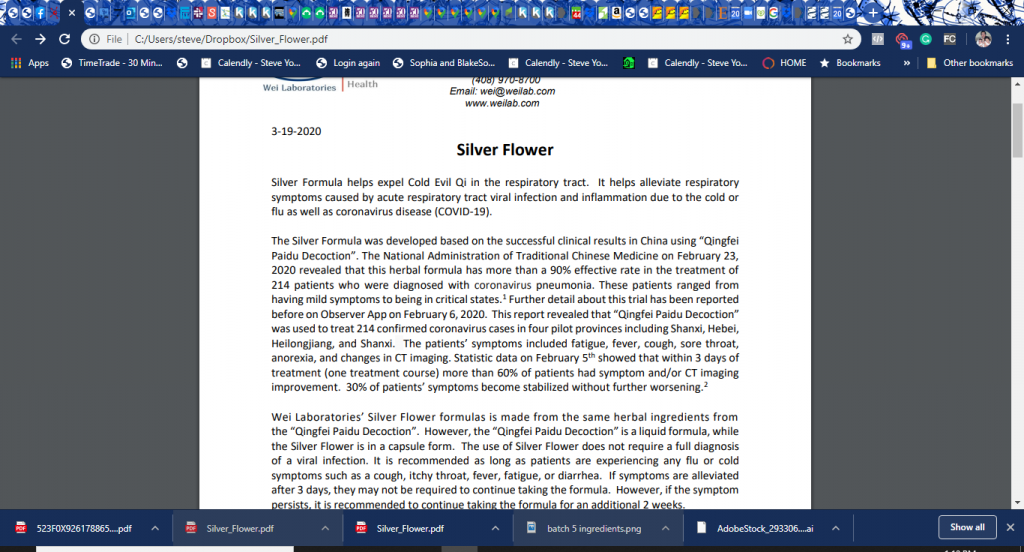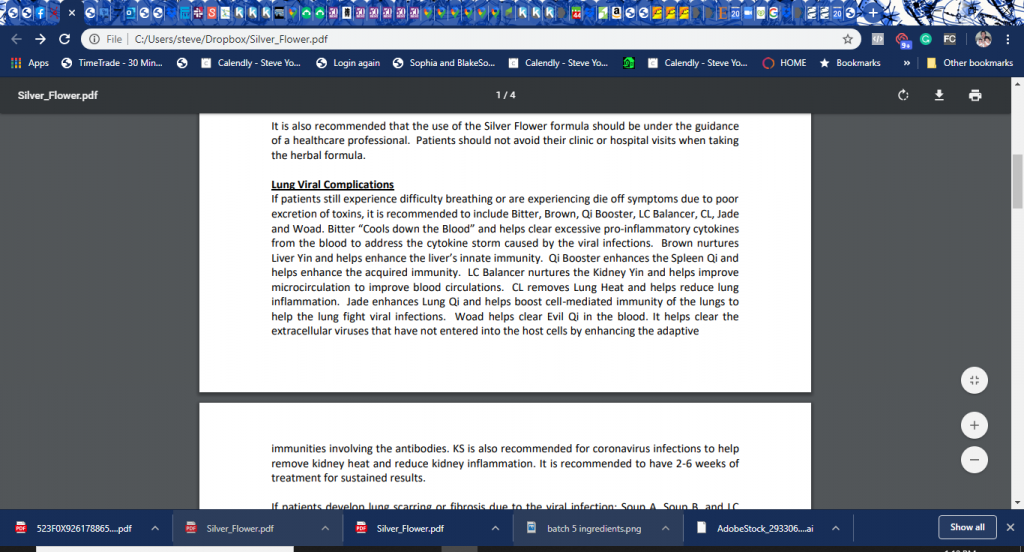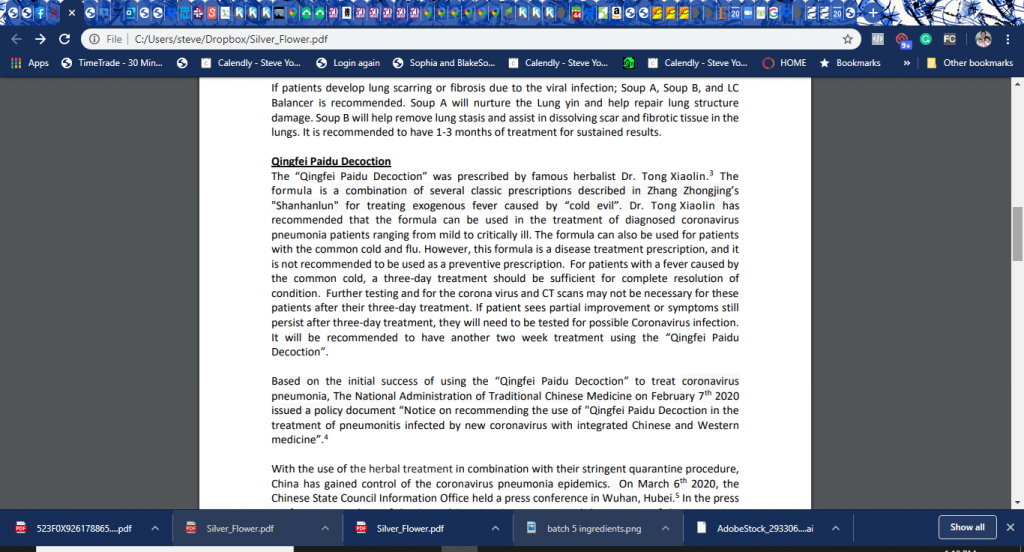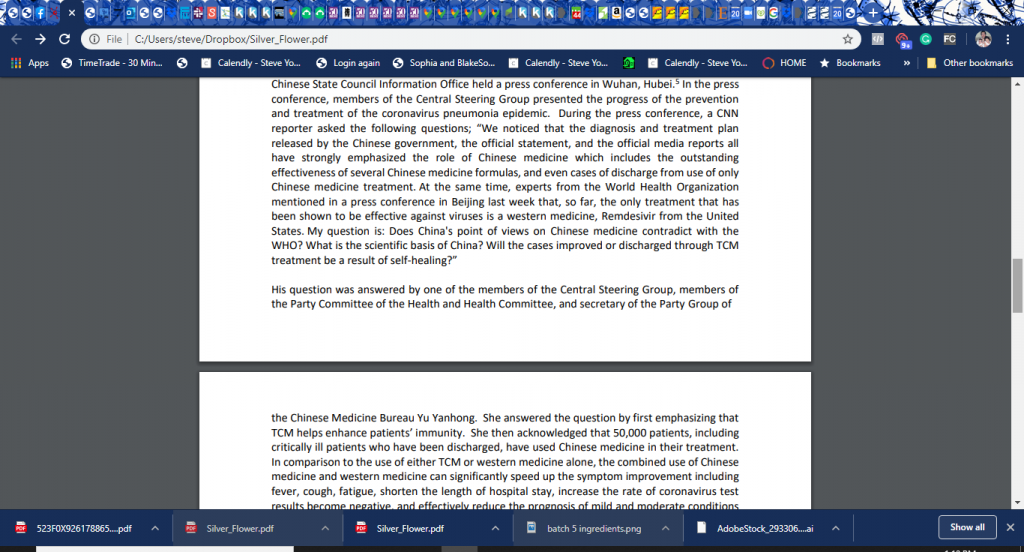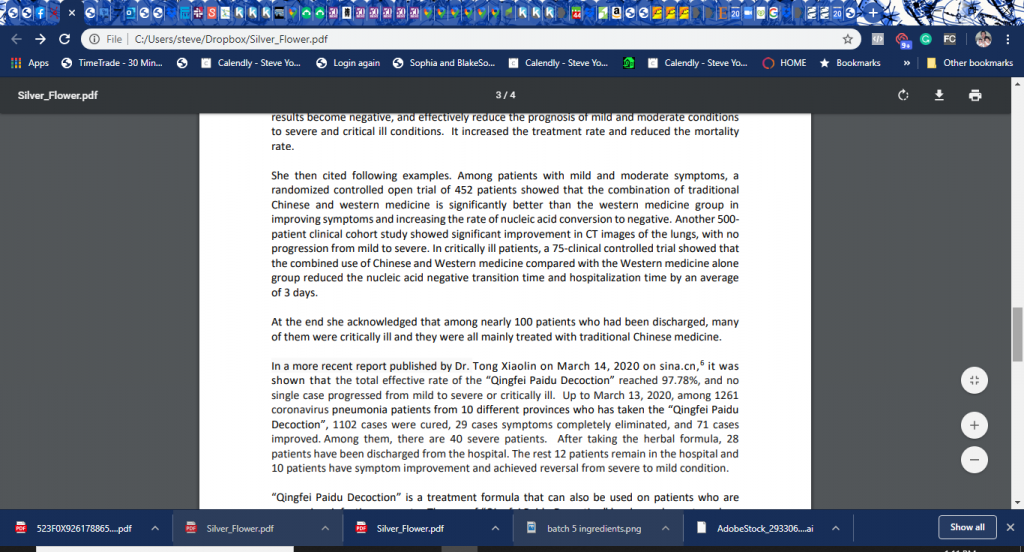 I have called the company and set up a direct line to one of their reps. To get this product, you can call the rep and just tell them you are a patient of Steve Young. She will help you get the Silver Flower product.
Allie Russell
Account Manager
Wei Laboratories, Inc
Direct Line » (612)-808-8924
Here are the links to the referenced science behind the product given to me from Wei Labs:
http://www.satcm.gov.cn/hudongjiaoliu/guanfangweixin/2020-02-23/13310.html
https://m.guancha.cn/politics/2020_02_06_534912.shtml?from=singlemessage&isappinstal
https://mp.weixin.qq.com/s/5dhQxY2VyUqj5SIqk-pneA
http://yzs.satcm.gov.cn/zhengcewenjian/2020-02-07/12876.html
https://www.guancha.cn/politics/2020_03_06_540279.shtml
https://k.sina.cn/article_1644119190_61ff44960200167hc.html?from=news&subch=onews
http://news.sciencenet.cn/htmlnews/2020/3/436948.shtm?from=singlemessage&isappinstalled=0
One last product I recommend is the Shield. You can read about it here:
The Shield is a comprehensive supplement designed to reduce systemic inflammation. Excessive inflammation is how people are dying from COVID. 
LASTLY, TO HELP YOU ALL EXPERIENCE THIS VIRUS AS A GREAT OPPORTUNITY, I AM GIVING YOU ACCESS TO ALL OF OUR HEALTH PROGRAMS FOR FREE. SEE BELOW ON HOW THEY WILL HELP YOU
One of the most important things you can do to boost your immune system is to detox. The 300-700 industrial chemicals currently in your body are definitely not helping. Not only is it suppressing your immune function, it's also disrupting your hormones (causing weight gain and fatigue), it's melting your brain, it's causing cancer, it's affecting your entire life!
You can access the DETOX program for FREE until March 25th. Start by CLICKING HERE TO SEE HOW TOXIC YOU RIGHT NOW.
The next most important thing is healing your gut. Recent research shows that 93% of Americans have gut dysfunction. That means your intestines are leaking poop into the rest of your body and the bacteria content is not healthy. You can access the gut protocol HERE.  Use use the discount code "committed" to get the protocol for free.
Lastly, workouts are important for your health. We have a home workout program that is the only one that gets you in shape while reducing injury risk. All other workouts tend to INCREASE injury risk. It's because they are not customized to your coordination level.
You can get the workout program HERE.
I'VE MADE THESE PROGRAM THAT WE NORMALLY CHARGE HUNDREDS OF DOLLARS FOR FREE. ALL I ASK IS FOR YOU TO GET IT AND USE IT!
WITHOUT USING IT, THEY DO NOTHING FOR YOU!
So take care of yourself and know that your system has innate abilities to heal and adapt. Doing these things will unblock your natural healing abilities. This is TRUE HealthCare. The system most people use is SickCare.
I'm giving you the power. Now it's up to you to decide what you'll do with it.
I ask that you share this page with your friends and loved ones. I want to give this to as many people as possible.
Each person that experiences a practice of self healing becomes more empowered to self heal!
I am asking you to help me help more people! Essentially you're paying it forward by sharing this page.
Lastly, if you are low on food, there is a great meal prep company that I recommend with organic healthy and longevity intended food.
Click HERE to see what they have.
You can use the code HOLISTICHEALTH for 10% off!