Gut Inflammation is one of the 5 main causes of systemic inflammation
Systemic Inflammation is the root cause of almost all diseases!
In that past decade, the field of knowledge on gut and the microbiome (the bacteria in your body) has exploded.  We now understand things like zonulin, directly controls the gut permeability (how likely your intestines are allowing toxins to leak out into the rest of your body). If it's dysfunctional, it leaks chemicals and bad bacteria (imagine poop particles) into your blood, your heart, your brain, your liver, your kidneys, etc…
When this happens, our body attacks itself and create major inflammation in all the tissues.
Stopping This affects the root cause of disease instead of chasing the symptoms with drugs for the rest of your life…
Stress, poor diet, NSAID medications, antibiotics, and even one hard workout can cause havoc on your gut permeability. So the first step is to heal your gut and decrease the amount of "leakage".
To do this the two best compounds to use are Colostrum (CLCIK HERE)  and Zinc-Carnosine (CLICK HERE) .  The research dose is 1 gram (1/3 teaspoon of Colostrum and 1 capsule of the zinc on an empty stomach 2 times a day). It can improve the gut permeability by more than 50% in just three weeks.
That means 50% LESS Harmful Chemicals makes it into your bloodstream!
*here is a research article on Colostrum and gut and health https://www.ncbi.nlm.nih.gov/pubmed/28397754
The above dose is for people who are not currently having noticeable symptoms (no diseases, no brain fog, no afternoon fatigue). If you are currently having symptoms then use the following dosages:
1 teaspoon of the Liposomal Colostrum 2 x a day and 2 capsules of the zinc-carnosine twice a day.
Also, you will want to add in something to kill potential pathogens (bad bacteria) in your gut.
You can get MesoSilver HERE.  Then take 1 teaspoon in the morning with the Colostrum  and Zinc.
Then add in Oregano Oil HERE.  Take 2 capsules in the morning with everything else.
The silver and oregano oil will work together to kill the bad bacteria.
As this happens, your body will release toxins into the blood. You will want to use Zeolite to trap the toxins and pull it out (this will help avoid bloating and "detox" symptoms)
For the first 2 weeks take 1 teaspoon 2 hours after lunch and before bed. Then just 1 teaspoon before bed for 4 more weeks.
Lastly, add in Glutamine (CLICK HERE) and take 3 teaspoons once a day 30 minutes before lunch to help heal your gut and reduce inflammation. (when you get to the page search for "L-glutamine" and buy the 1 kg option as this is cheaper than Amazon)
*here is one of the science articles on glutamine and the gut https://www.ncbi.nlm.nih.gov/pubmed/28498331
DO THE RECOMMENDATIONS ABOVE FOR 2 WEEKS BEFORE STARTING THE NEXT STEPS BELOW
YOUR GUT (THE SOLDIERS)
As you're building your wall to guard against the harmful chemicals, you will also need to make sure you have the people in place to defend it and do the work. In your body, this is your bacteria. We are still in our infancy in understanding how the bacteria works.
So, start with a good Probiotic (CLICK HERE).   Then get a good Yeast called Florastor (CLICK HERE). Take 2 capsules twice a day for a month and then back down to 2 capsules once a day.
Lastly, get Epicor (CLICK HERE) to feed the good bacteria and take 2 capsules a day on an empty stomach.
Just To Summarize The Recommendations From Above:
30 minutes before breakfast:
1 tsp of colostrum
2 caps of zinc
1 tsp of silver
2 caps of oregano
30 minutes before lunch
3 teaspoons of glutamine
2 hours after lunch (for first 2 weeks only)
1 tsp of zeolite
30 minutes before dinner
1 tsp of colostrum
2 capsules of zinc
2 capsules of probiotic, 2 capsules of florastor (add after 2 weeks)
before bed
1 tsp of zeolite
2 capsules of Epicor (add after 2 weeks)
There you go. Enjoy this protocol and put it to use. It plugs one of 5 holes that are causing inflammation to leak into your body.
Enjoy Loving Your Way To 150!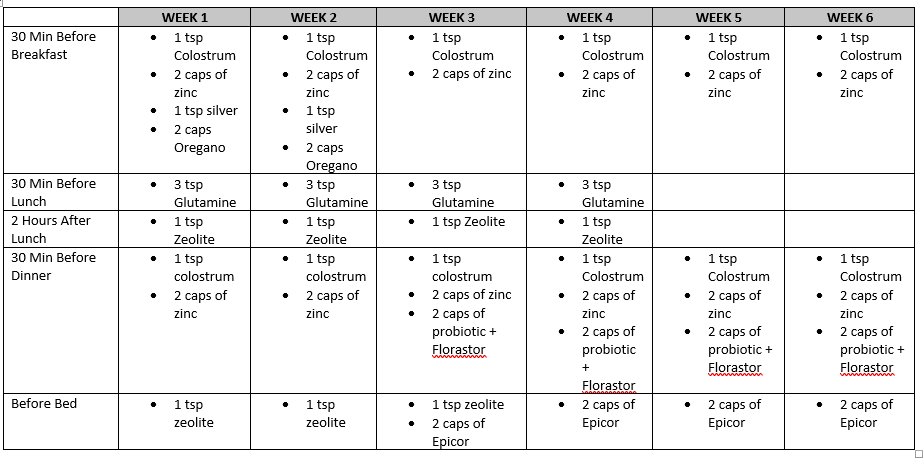 OK Below is the legal disclaimer to appease the "man"
(all kidding aside you should read this…)
Not Healthcare Advice
The products and claims made about specific products on or through this Site have not been evaluated by the United States Food and Drug Administration and are not approved to diagnose, treat, cure or prevent disease.
This Site is not intended to provide diagnosis, treatment or medical advice. Products, services, information and other content provided on this Site, including information that may be provided on this Site directly or by linking to third-party websites are provided for informational purposes only. Please consult with a physician or other healthcare professional regarding any medical or health related diagnosis or treatment options.
Information provided on this Site and linked websites, including information relating to medical and health conditions, treatments and products may be provided in summary form. Information on this Site including any product label or packaging should not be considered as a substitute for advice from a healthcare professional. This Site does not recommend self-management of health issues. Information on this Site is not comprehensive and does not cover all diseases, ailments, physical conditions or their treatment. Contact your healthcare professional promptly should you have any health related questions. Never disregard or delay medical advice based upon information you may have read on this Site.
You should not use the information or services on this Site to diagnose or treat any health issues or for prescription of any medication or other treatment. You should always consult with your healthcare professional and read information provided by the product manufacture and any product label or packaging, prior to using any medication, nutritional, herbal or homeopathic product or before beginning any exercise or diet program or starting any treatment for a health issue. Individuals are different and may react differently to different products. You should consult your physician about interactions between medications you are taking and nutritional supplements. Comments made in any forums on this Site by employees or Site users are strictly their own personal views made in their own personal capacity and are not claims made by us or do they represent the position or view of Body Solutions and all the team members associated with Body Solutions. Product ratings by any current or previous employees or Site users are strictly their own personal views made in their own personal capacity and are not intended as a substitute for appropriate medical care or advice from a healthcare professional.
Always check the product label or packaging prior to using any product. If there are discrepancies, customers should follow the information provided on the product label or packaging. You should contact the manufacturer directly for clarification as to product labeling and packaging details and recommended use.
Body Solutions and all the team members associated with Body Solutions is not liable for any information provided on this Site with regard to recommendations regarding supplements for any health purposes. The products or claims made about specific nutrients or products have not been evaluated by the Food and Drug Administration. Dietary products are not intended to treat, prevent or cure disease. Consult with a healthcare professional before starting any diet, supplement or exercise program. Body Solutions and all the team members associated with Body Solutions makes no guarantee or warranty with respect to any products or services sold.
Body Solutions and all the team members associated with Body Solutions is not responsible for any damages for information or services provided even if Body Solutions and all the team members associated with Body Solutions has been advised of the possibility of damages.