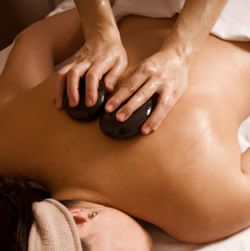 Have you ever suffered a headache where it gives you pain only on one side of the head? As if it wraps right around the ear? How about a headache that gives you pain right behind or around the eye? Perhaps one could have felt the type of headache that gives you tension around the forehead as if you are wearing a tight head band?
These are all symptoms of someone who can be suffering from myofascial trigger points. These trigger points are buried in the myofascial planes in the neck muscles of the body and since fascia connects one muscle to the next, this built up adhesion (Trp), sends a pain referral using the fascia lines as its pathway. This is making the headache nothing but the effect of trigger points in the neck.
Trigger points can be caused by external and internal factors such as: muscle strain, overuse, emotional distress, poor nutrition, poor posture, exposure to cold temperatures, lack of regular exercise, and trauma (Motor Vehicle Accidents or contact sports).
As the tissue works to heal itself inflammation in the area causes the neuromuscular junction to become very sensitive and irritable. The muscle fibers respond by contracting and twisting making the area feel like a hard lump or a firmness that is tender to touch. This lump is a trigger point. The result of untreated trigger points is abnormalities in the function of the musculoskeletal and nervous system which can develop, causing pain, tingling, numbness, limited mobility, headaches, and migraines.
At Body Solutions Inc in Voorhees, this is one of many medical modalities our board certified and licensed massage therapists are trained in. The public can feel safe and secure receiving medical treatments from our therapists because they have met all standards as well as qualifications which displays the confidence and security that medical modalities such as trigger point therapy is applied by professionals. Trigger point therapy is not a massage treatment that should be applied by local spa masseuses, especially those who have not been tested by the National Board (NCBTMB). The wrong treatments applied can do even more harm to the nervous and musculoskeletal system.
If you are one who suffers with headaches residing in the Cherry Hill, Marlton, Voorhees, or Mount Laurel area, and want high standard, long term results, muscle re-education, manual therapy, Body Solutions Inc is the place to receive it. If taking medication is the only solution you came up with, tried massages before and you didn't get the results you wanted, then this is definitely one treatment that you need to try and feel the results within your first session.  Keep in mind that depending on how long you suffered from headaches can give you an estimate of what stage you are battling, such as: acute (pain just happened), sub acute (pain has been there for a couple of weeks) or chronic (pain dealing with the pain for years) stages. Schedule your free massage consultation and feel for yourself how Trigger Point Therapy can relieve those many years of painful headaches.
By: Lynn Wang LMT, NCTMB