We have developed our own proprietary screening process to detect any underlying imbalances in your body. The detection of these imbalances allows our trainers to work with our therapists to develop customized exercise programs that are safer and more effective. Published studies have confirmed that our programs, directed by physical therapists, are 64% more effective and safe as compared programs directed by a personal trainer.
The personal training staff has helped over 600+ people from the local Voorhees, Cherry Hill, and Marlton area and around the U.S. since 2003. Our staff has served as teachers, lecturers, and leaders in the health and fitness field. We have the HIGHEST standards of education and training to make sure your programs are not only the most effective, but also the safest.
NOT ONLY IS THE TRAINING HERE

SAFER

, IT'S ALSO MORE

EFFECTIVE!
Our proprietary training program based on our MetMax MovementTM training system, will burn calories 2-5X faster than typical training approaches while preserving our main promise of safe and effective programs. Our Patent Pending process teaches your body to be in better control as you're getting in better and better shape. That means, you will look great AND be less likely to pull your back out, twist your ankle, tweak your knees, and wake up with a stiff neck. Yes, we combine injury prevention exercises into your training to make you look AND feel better.Our certified personal trainers work together with our physical therapists to develop programs for you that:
Connector.

Connector.

Gets the inches off without the injury risks

Connector.

Connector.

Makes you feel better about your body

Connector.

Connector.

Allows you to workout even with injuries

Connector.

Connector.

Burns calories 300-500% faster
Do our clients get the same results as those "Insane" workouts… YES They Do!
Here are some of the results our clients have achieved.
Jessica has made some AWESOME changes to herself, not just her body. Making changes like this is more than just 50 pounds of fat loss. It's about being a happier you, a more confident you, a more energetic you!
Charles, Jess' husband, set some serious goals to get on stage and compete in bodybuilding. Our trainers have all competed before and knew how difficult it was to prepare for a show. Charles stepped up to the challenge and made dramatic changes to his eating, lifting, and lifestyle program. We merely showed him the way, and he took off!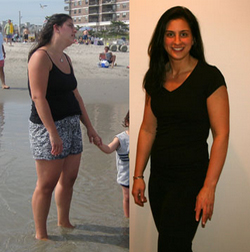 Personal Training Sessions
Randi has revamped herself since starting at Body Solutions in Voorhees NJ. Like all of our committed clients, she has applied our workout program to her will to succeed. The result is a DRASTIC change in herself. Like most clients who start our program, the initial will to change is there but not extraordinary. However, with each passing week, you will learn to feed that fire and build momentum.
It's easy to make changes when you are seeing the weight drop off week to week and month to month.
Again, this is about making a new you. Not about just sets and reps .We're here to help you.Not about just sets and reps .We're here to help you change. The fat loss and an awesome body is just a side effect of it. The main benefit will be a much happier you with a LOT more energy.
Just complete the form and we will call you to schedule your meeting with the trainer. We will see if we can help you make some serious changes to yourself and your body. It's free! If you want it, we can show you, help you, and guide you through the journey.