BEST PHYSICAL THERAPY TEAM IN SOUTH JERSEY!
Dr. Steve Young
PT, DPT
With over 15+ years in experience in the healthcare and fitness field, Dr. Steve Young serves as the Director of Fitness and Physical Therapy for Body Solutions in Eagle Plaza Voorhees New Jersey. Dr. Young coordinates the physical therapy, personal training, medical massage, performance training, and nutritional consultation services.
Hire Dr. Steve Young Now!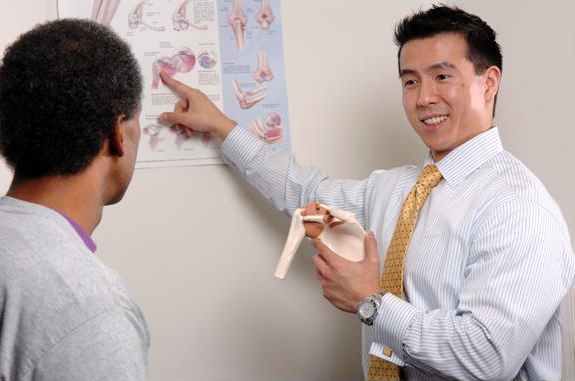 Steve's efforts for the past eight years have been directed towards developing a comprehensive and effective physical therapy treatment plan and a fitness training plan based on scientific and medical evidence. Thousands of research articles later, Dr. Young has developed a unique approach of a combination of precise nutritional strategies along with correct exercises, and careful hands on techniques to maximize recovery after an acute or nagging injury / pain. This precise approach allows patients to experience complete recovery while improving their health. Dr. Young has also pioneered MetMax MovementsTM , the most effective AND safest workout approach available. See www.metmax.com for details.
Dr. Young received his clinical doctorate and master's degrees in physical therapy from MCP Hahnemann University (now Drexel) and his Bachelor's degree in Kinesiology movement science with a heavy emphasis on biomechanics from the Pennsylvania State University. For the past seven years, Dr. Young has appeared on Fox news as a specialist on health, fitness, and exercise, and he is a regular contributing writer for local and online publications. His teaching and lecturing experience includes a presentation at the 2002 Sports Symposium at Pennsylvania Hospital and lectures to personal trainers across the country in facilities like Gold's Gym, Town Sport International, the Sporting Club, and numerous local gyms. His academic experience in teaching includes serving as an adjunct assistant professor at UMDNJ Stratford New Jersey. Dr. Young assisted with teaching the exercise physiology class for the master's in physical therapy program. His goal is to educate the public about the lack of scientifically based knowledge behind the many fitness recommendations from magazines, from books, and from advice from fitness trainers.
When not working and trying to change the world, Dr. Young likes to spend time with his family, play an occasional XBOX game, working out, reading research, and going out for fine dining. He's looking for a job as a food critic for fine restaurants if you know anyone hiring. : )